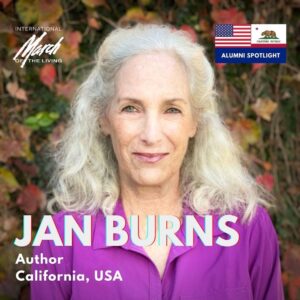 Jan Burns (BJE LA Adults '12), Author
This week we are proud to feature Jan Burns, an alumna from the BJE LA Adult Delegation in California. Inspired by her experience on the March of the Living, Jan went on to author a book compiling the stories of the survivors who accompanied her on her March of the Living experience.
I traveled to Poland on the March of the Living with the BJE Los Angeles Adult delegation in 2012, inspired by my daughter who had made the trip two years earlier as a high school senior. I was excited and terrified to go. I felt a push and pull between wanting to hear, see and be a witness to the Holocaust but also a fear of doing so, not knowing what kind of emotional impact it would have on me. The most powerful impact of my journey was my encounter with the survivors I met on the March. They inspired me with their willingness to share their stories and the life lessons they gained from those experiences.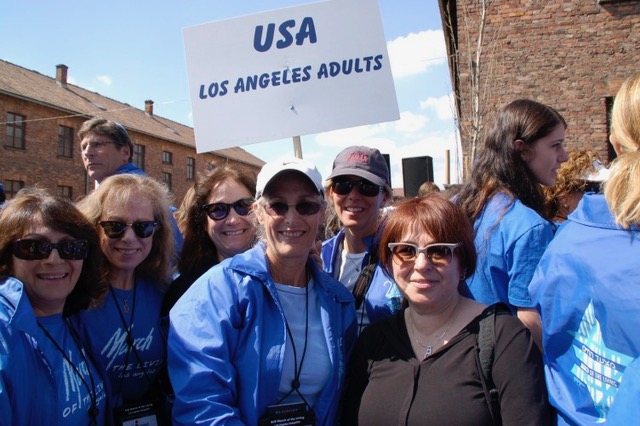 After returning home I wanted to find a way to keep the experience of the March alive, both for myself and for the students from the LA delegation. I came up with the idea of interviewing the survivors from our trip for a book as a way of preserving and sharing their stories.
The following year I published March of the Living ~ Our Stories, a collection of their stories created from my interviews. I hope the book, gifted to the LA BJE delegates, will provide a means for them to share their experiences on the March and the survivor stories they hear, with their children and grandchildren, enabling future generations to read these first-hand accounts.  
March of the Living ~ Our Stories was the first piece of writing I'd ever published and the experience opened the door to a new area of creative expression for me. I have since had several memoir stories published. Having written a book has also afforded me the opportunity to speak about the Holocaust and the March in schools and synagogues in California, Arizona, and London. In this way I have become a witness for the next generation.