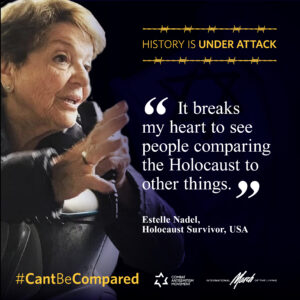 Estelle Nadel, Holocaust survivor – in conversation with Monise Neumann, International March of the Living
Polish-born Estelle Nadel was only five years old when World War II began.  The war started immediately for her and all the three million Jews in the country. She still remembers wearing the yellow star and how the Gestapo ransacked their house looking for weapons and valuables – of which they had had neither. The Nazis murdered her father Reuven and her sister Sonia before she turned 7, and her mother was caught by the Gestapo and was murdered too.  Only Estelle and her two brothers survived. After the war, she emigrated to the United States, got married and had three sons. Estelle now lives in Westminster, Colorado.
For Estelle surviving the Holocaust was a matter of faith. Speaking about her experiences is a matter of truth: "It took me many, many years to be able to talk about it," she says. "I've talked now, hundreds of times, and things have not changed. I still cry every time. I re-live the whole scenario."
Despite the difficulties, Estelle says that she feels compelled to speak. As a witness to the Holocaust's horrors, she feels that she must rebuke those who deny that it happened. "There are very few survivors left, and I want the world to know that there was a Holocaust," she says. "There's so much denial, that every time I get a chance to tell my story, I feel like I'm doing something against it.
Estelle was speaking ahead of International Holocaust Remembrance Day, January 27, against a backdrop of growing trivialization of the Holocaust, especially in the context of the Covid-19 pandemic, which has seen comparisons made between pandemic restrictions and Nazi measures against Jews during the Holocaust.
Estelle says this breaks her heart: "How dare people make a comparison between the Holocaust and the pandemic."
Estelle Nadal has now participated five times in the March of the Living.  It was only when she came with the March of the Living to Auschwitz and went to the Book of Names that she found out what happened to members of her family.  She is currently writing a graphic novel to tell her story and she wants to live to see it published.