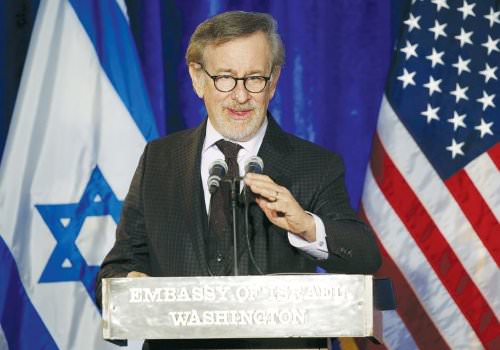 Aish – The newly released biography, Steven Spielberg: A Life in Films by Molly Haskell, delves into the Jewish life of the iconic director and the impact of his childhood on his countless award-winning films.
Years ago, right before the release of Schindler's List, Spielberg spoke openly about his Jewish roots and about his hopes for his own children. As a child, the Spielbergs moved from Ohio to Arizona to California, and they were often the only Jewish family in the neighborhood. "I was embarrassed, I was self-conscious. I was always aware I stood out because of my Jewishness," Spielberg recalled. "In high school, I got smacked and kicked around. Two bloody noses. It was horrible."
The Spielbergs had lost family in the Holocaust; they had a number of relatives who had died in Poland and Ukraine. And at the age of 46, Spielberg took a courageous step in his own Jewish journey by mustering the courage to go back into the pain and darkness of the Holocaust with the making of Schindler's List. He had been offered the project ten years earlier, but he didn't feel ready to take on the enormous emotional and spiritual challenge that the creation of a Holocaust film demanded from him.
The choice to make the film came at a time in Spielberg's life when being Jewish began to take on more of a personal focus. At that point, Steven was the father of five children and he wanted them to be raised with a strong Jewish identity.
With Schindler's List he decided to create something "that would confirm my Judaism to my family and myself."
"I'm getting older, maybe that's the most honest way to put it," said the filmmaker. "When my children were born, I made the choice I wanted them to be raised as Jews and to have a Jewish education." His second wife, Kate Capshaw, converted to Judaism after more than a year of studying with an Orthodox Rabbi. Soon afterwards, the doorways of all of Spielberg's homes and offices had mezuzahs affixed to them. And Spielberg built a separate kosher kitchen in the basement of his Los Angeles home where his mother, Leah Adler, cooked holiday meals for the family.
His mother Leah often spoke about how Steven wasn't a great student or very popular, but that even as a child, he always saw things differently than anyone else. Steven recalled how his mother would speak to him about the Holocaust even when he was a little boy. "When I was very young, I remember my mother telling me about a friend of hers in Germany, a pianist who played a symphony that wasn't permitted, and the Germans came up on stage and broke every finger on her hands. I grew up with stories of Nazis breaking the fingers of Jews."
In Ohio, Spielberg's grandmother taught English to Holocaust survivors. Steven spoke about how he learned his numbers from an Auschwitz survivor who used the tattoo burned on his arm to teach the young Spielberg.
"He would roll up his sleeves and say, 'This is a four, this is a seven, this is a two,'" Spielberg recalled. "It was my first concept of numbers. He would always say, 'I have a magic trick.' He pointed to a six. And then he crooked his elbow and said, 'Now it's a nine.' In a strange way my life has always come back to images surrounding the Holocaust. The Holocaust had been a part of my life, just based on what my parents would say at the dinner table. We lost cousins, aunts, uncles."
Today Spielberg has seven children and three grandchildren, and he says that making Schindler's List was the turning point when he decided to create something "that would confirm my Judaism to my family and myself." He still speaks today about how his wife's conversion to Judaism before they were married in 1991 renewed his commitment to Judaism and to his children's Jewish education. It was at that point that the Spielberg family began to observe all the Jewish holidays and light candles on Friday night. They gave their children bar and bat mitzvahs, and Spielberg has raised them with a love for Israel and a strong connection to their Jewish roots.
Spielberg has raised his kids with a love for Israel and a strong connection to their Jewish roots.
Spielberg has spoken openly and frequently over the years about his support for Israel and his dedication to continuing Holocaust education. "As a Jew, I am aware of how important the existence of Israel is for the survival of us all. And because I am proud of being Jewish, I am worried by the growing anti-Semitism and anti-Zionism in the world. Only five states mandate Holocaust education in their schools. I will continue to advocate for Holocaust education programs to be mandated in all 50 states and tolerance education programs a requirement for graduating high school seniors."
After Schindler's List was released, thousands of survivors began calling Spielberg with their personal accounts. Spielberg wanted to give voice to each of their stories so he established the USC Shoah Foundation in California to record and share their testimony. Spielberg also established a film archive at Hebrew University with thousands of hours of video interviews with survivors called the Holocaust Testimonial Project.
Haskell's biography, part of Yale's Jewish Lives series, describes how Spielberg's films reveal the stepping stones of his journey. But the most precious lesson we learn from Spielberg is how he used his challenges and fears to create meaning and find his own way in his life, film by film, story by story. Ever since he was a little boy, Steven could not keep his stories hidden inside of him. As Spielberg once told an interviewer from Entertainment Weekly in 2011, "Yes, I've always had shpilkes. I have it now. I had it then. It is my fuel, basically."
He used this fuel to speak up, both as a filmmaker and as a Jew. He used it to become the kind of father and grandfather that he is proud of. And he used it to pass on the most precious gift that he has – his Jewish identity. Perhaps of all of Spielberg's greatest stories, this is the one that will take root and grow beyond anything even the most brilliant filmmaker could have ever imagined.
---
Originally published HERE