Holocaust survivor Luis Opatowski Goldberg, in conversation with Alina Garber, March of the Living, Mexico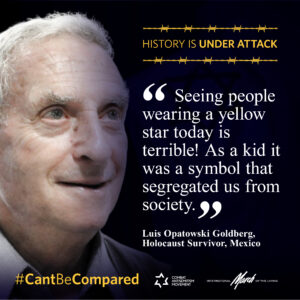 Luis Opatowski Goldberg, was born in Brussels just a few months before the war began. Luis was hidden in a church and served as an altar boy. Later he was taken to the Stutthof labor camp. Luckily, he survived the war, and afterward he came to México where an uncle lived. He is married, has eight children,12 grandchildren, and five great-grandchildren.
Luis was speaking ahead of International Holocaust Remembrance Day, January 27, against a backdrop of growing trivialization of the Holocaust, especially in the context of the Covid-19 pandemic, which has seen comparisons made between pandemic restrictions and Nazi measures against Jews during the Holocaust. Seeing people wearing the infamous striped uniforms or wearing the yellow star online and in the streets during the pandemic is terrible, he says: "I had to wear a yellow star as a kid. I was mistreated because of it. It was an offensive symbol, discriminatory, it segregated us from society. It has nothing to do with a vaccination passport".
Commenting on the inappropriate comparison that is made between leading medical figures like Pfizer CEO Albert Bourla – himself a descendent of Holocaust survivors – the US President's medical advisor Dr. Anthony Fauci, and others, with the Nazi "doctor" Josef Mengele, Luis says: "Josef Mengele conducted experiments with people that were not ethical, and he was a killer; Mr. Bourla is saving lives. These comparisons make me feel very angry and sad."
Asked about the issue of Holocaust denial and the future of Holocaust memory, Luis said he is not concerned because there is a lot of documentation, museums, and recorded testimonies such as those produced by the film director Steven  Spielberg.  "I don´t think that in 50 or 100 years the Holocaust will be erased from history, as long as we educate and make projects like MOTL this will not happen. I lecture in universities, and it is my responsibility to educate young people so they will never forget.