The March of the Living creates a bridge between the past and the future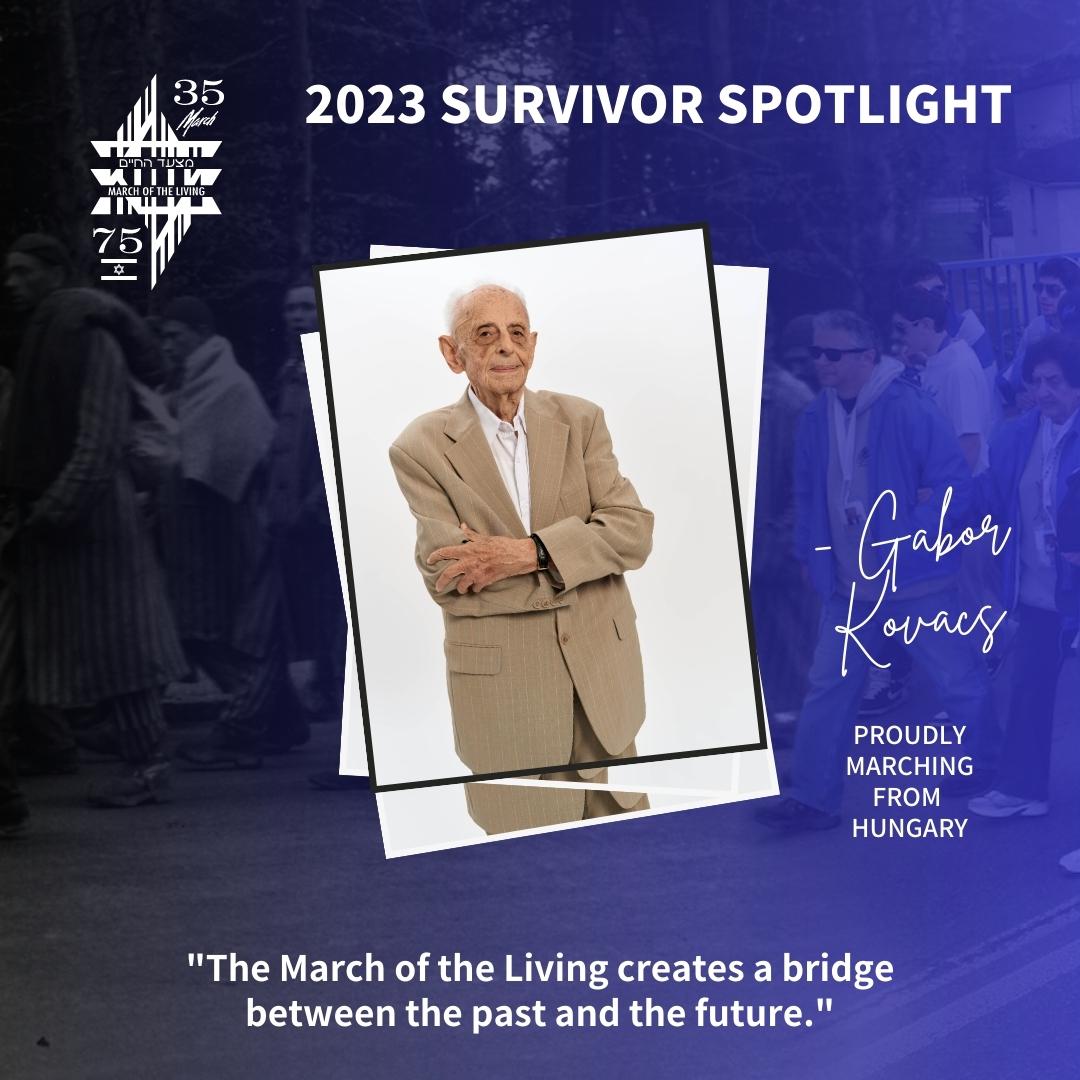 I am Gabor Kovacs. I was born in Budapest on March 31, 1932. Immediately before the Shoah, I attended high school. It was a difficult time because even among the students, we could feel the antisemitism. The behavior of my teachers varied. Some understood our difficult situation, while others made lists of their students and registered the Jews. We had to wear the yellow star as of April 5, 1944, and that was also the day we received our school report cards due to the war. I will never forget the classmates who sat beside me, showing solidarity, who turned away in protest.
I lost my father in the Holocaust. He was deported in October 1944 and perished in Mauthausen in January 1945. My relatives from outside Budapest were deported to Auschwitz. Two cousins and three aunts and uncles of mine were the victims of the Final Solution. One of my uncles and one of my aunts were shot in the Danube by members of the Arrow Cross. I spent the most difficult days with my mother in the Budapest Ghetto. The Red Army liberated us on January 18, 1945.
The Holocaust did not start with the enforced wearing of the yellow star. It began much earlier, with the creation of hatred during the two decades following World War I. It started with discriminatory laws against Jews. We must not allow discrimination against people. Education should begin in kindergarten. If children receive a different kind of education at home than they receive through the educational system, it can create a serious conflict. Antisemitism still exists, but its forms and tools have adapted to our era. Creating hatred is unacceptable!
I believe that the March of the Living creates a bridge between the past and the future. Different generations meet and remember together at the event. The March in Budapest that took place before the pandemic was very memorable for me because Agnes Keleti, the old Jewish Olympic Champion of Hungary, who won ten Olympic medals, also participated, and we finished the commemoration at the Shoes on the Danube Bank Memorial.
My message to the young generation is to be patient and tolerant. They should pass on the flames of remembrance to their children and should not forget what they have learned from their parents and grandparents.