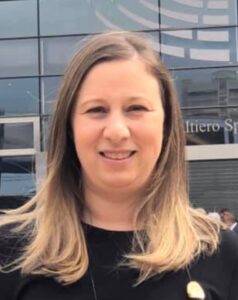 International March of the Living proudly announces the appointment of Revital Yakin Krakovsky as Deputy CEO.
In addition to an MA in Political Communications from Tel Aviv University, BA in Islam and Middle Eastern Studies from Hebrew University and a Professional Diploma in Spokesmanship and Public Relations from Bar Ilan University, Revital brings to her new role her experience as Executive Director for Strategy & Communications Ministry of Strategic Affairs in Israel and her role as Business Development Director for the JPost-Maariv Group. Her commitment to and involved with the organization began with her journey on the 2008 March of the Living, during which she met her future husband. She and Yoav have dedicated their lives to Holocaust education ever since.
"Revival's clear vision combined with her extraordinary skill set will expand the mission of The March and continue to broaden our horizon with a dedication to reach additional millions around the globe", said Dr Shmuel Rosenman, MOTL Chair.
Revital Yakin Krakovsky: "March of the Living is part of my identity. For me it is a place of opportunities and miracles. The opportunity to pass the torch of memory from the survivors generation to the next generation is something that I am fully committed to. The moments of miracles to me is to listen to every survivor's story, to hug them, March with them and to be a voice to their bravery and heroism.
I would like to thank Dr. Shmuel Rosenman, Chairman, Phyllis Greenberg Heideman, President, and Baruch Adler, Vice Chair, for their vote of confidence. You are each an inspiration to me. Your vision, dedication and commitment to Holocaust education for 35 years is something I am proud to be a part of."
We are fortunate to have Revital on board as our new Deputy CEO and look forward to working together in our continuing development of educational programs to ensure a bright future for Holocaust education.
For further information, contact us.