For students from Japan and Morocco, as well as the more than 50 countries and territories, March of the Living is a unique opportunity to learn both history and about past tragedies.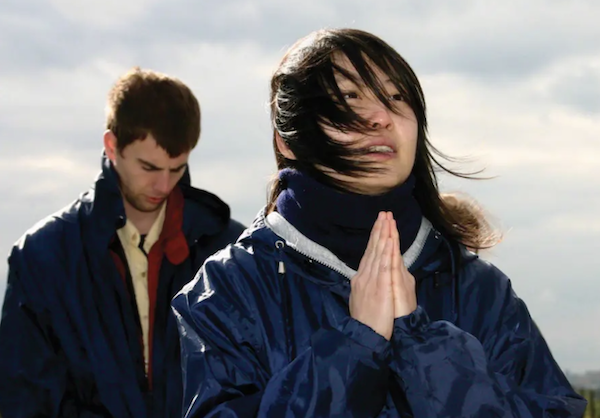 Every spring, thousands of participants from around the world travel to Poland for the International March of the Living, where they study the history of the Holocaust and walk the 3-kilometer path from Auschwitz to Birkenau, as a tribute to its victims.
This May, Jonny Hudson, 34, will be bringing a delegation of 35 high school students from Ota, a city in central Japan, where he teaches history. Hudson, who first became interested in Holocaust studies while a college student in his native England, trained as a history teacher, and has been teaching Holocaust education to the Japanese students in the English immersion school in Ota. He first attended March of the Living in 1996 with the British delegation, and reports that it was "an amazing and inspiring experience."
Hudson began teaching in Ota in April 2017, and together with another colleague, presented the idea of attending this year's March with his students to the school's administration, who responded enthusiastically. Hudson, who reports that there is relatively little Holocaust education in Japan, views his teaching as a "good opportunity to spread the message and the meaning of the Holocaust in Japan." In his teaching of the Holocaust, Hudson focuses on individuals – both those who perpetrated the evils – and those who acted heroically. "It is the moral examples of people's lives that we can learn from," he says. Hudson reports that his Japanese students found great meaning in the story of Janusz Korczak, the famous educator who directed an orphanage in Warsaw, and who chose to remain with his orphans when they were sent to Treblinka in 1942.
Recalling his previous visit to March of the Living in 2016, Hudson says that "‪it is difficult to describe the feeling that you get when you go to the historical sites. It's an incredibly intense experience." He says that the group that he is bringing this year may very well be the first Japanese school delegation to travel to March of the Living. In a time when anti-Semitism is on the increase, he views March of the Living as a meaningful form of protest. "‪I think with so many different delegations from so many different countries, that the March is a sign of solidarity, and it sends a message that this is how people effect change. In many instances, it is the only thing we can do."
Eva Labi lives in Israel and heads the Israel-Diaspora Department of Alliance – Kol Israel Haverim, the Paris-based organization, which works to advance education among Jews, with a network of schools in France and abroad. "I have been familiar with March of the Living for more than 30 years as part of my professional activities," she says. "I have always supported and encouraged, as Director of the Alliance School Network, the participation of our students in March of the Living. It is a very important trip, not only as an educational program, but as journey of initiation for our young people." Each student who is a part of March of the Living, she adds, "takes on the responsibility of transmitting the past, and in a certain way, becomes a witness to history."
Labi has participated and accompanied students on the March of Living for several years, including a group of students from Morocco. She explains that for the Moroccan students, March of the Living was an opportunity for them learn about Mohammed V, who was king of Morocco during World War II, and who prevented the Nazis and the French Vichy regime from deporting the Jews of Morocco. She notes that "in 2018, King Mohammed VI, grandson of Mohammed V, directed that Holocaust studies be incorporated into the country's high school curriculum."
Labi says that for students, March of the Living is more than an emotional experience. It is a trip of learning and understanding. "During this trip, young people also discover the spiritual, intellectual, and cultural wealth that existed in the Jewish communities of Poland before the Holocaust."
For students from Japan and Morocco, as well as the more than 50 countries and territories that will be participating, March of the Living is a unique opportunity to learn both about the history and tragedies of the past, as well as aspirations and hopes for a better future.