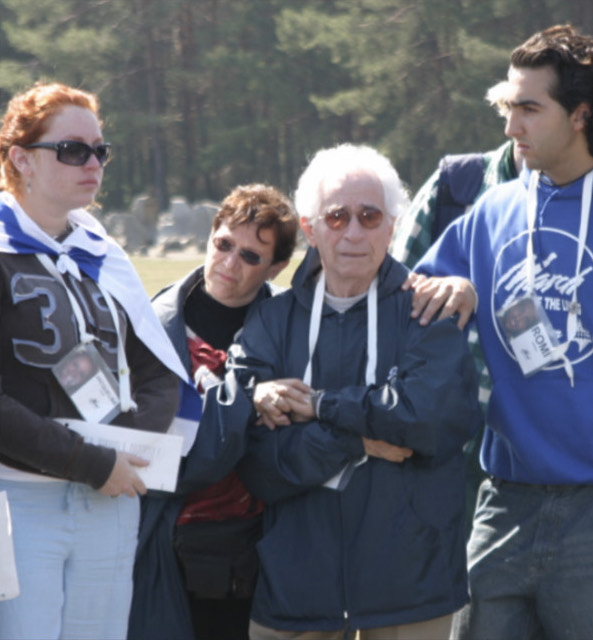 We mourn the loss of Holocaust survivor and March of the Living educator, Joe (Israel) Sachs, z"l, who travelled with our Florida delegations for many years.
Joe was born and raised in the small town of Przyrow, Poland. At the outbreak of WWII, Joe, a young boy of 12 years old lived with his parents and an older brother in the city of Sisnowiec. During the German occupation, Joe was apprehended in a deportation roundup and shipped off to a labor camp in Germany was he was 15. After nearly three years of concentration camp internment, Joe was liberated on May 8, 1945. None of his family survived the war.
Joe participated in many March of the Living trips and inspired countless students and adults in our community about the history of the Holocaust based on his life's experiences. He served as a member of the Friends of the March of the Living for many years, and his participation was always a highlight for the success of our organization.
Joe was very dedicated to the memory of the Shoah, not only because he was a survivor, but also he had deep feelings to try to help his fellow men and women who were also survivors. As you well know, Joe was very involved on the Holocaust Memorial Miami Beach Committee, represented survivors at the Claims Conference, was a published author of his own story, spoke to thousands of students about his personal experience and participated in many March of the Living trips for both students and adults.
Click HERE to watch this Survivor Speaks video featuring Joe which was created by the Miami March of the Living.
May his memory be a blessing and may his family be comforted among the mourners of Zion and Jerusalem.
READ MORE ABOUT JOE (ISRAEL) SACHS