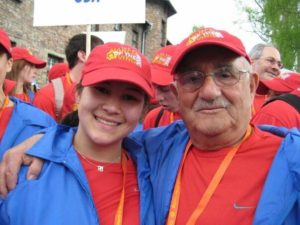 ISAAC GOLDSTEIN z'l (October 9, 1925 – October 9, 2018), was born in Bialystok Poland and was the only person in his family to survive the Holocaust, spoke about living through a death march, only because a friend gave him a pair of shoes at the last minute.
At the age of 14, Mr. Goldstein's life was turned upside down when the Germans invaded Poland. For the next six he often had to run, hide or lie to keep from being killed.
Isaac spent time in a number of camps including Majdanek, Auschwitz and Buna Amnuvitz. He witnessed first hand horrible atrocities committed man against man. He often wondered why he was still alive while he watched his family and friends dragged off never to be seen again.
There were many times when his life was saved simply by a pretty girl walking by to distract a guard, someone asking him to carry a backpack, giving him a pair of shoes, or even jumping ahead of him in line to board a boat. He acknowledged these 'coincidences' are hard to discount, but find it difficult to attribute his survival to a higher power's plan. Isaac lived in San Jose, CA.
"I am a better person for having known Isaac Goldstein, z"l. When I think of Isaac, I always think of his smile. That's one of the many things I admired about Isaac, despite all the horror that he witnessed and experienced, he still smiled, laughed and lived life to the fullest. I'll never forget this one moment when the group was walking through auchwitz when suddenly Isaac stopped. In front of us there was a ditch. Looking right at it he said, "I dug that ditch" and proceeded to tell us the story of how he and his friend dug that ditch to keep a low profile from the nazis. Isaac enriched my March of the Living trip and my life. After the trip I was lucky to share countless dinners with Isaac where I got to know him as more than just a Survivor. He taught me the importance of making time for your family and giving back to the community. When he talked to you, he had this unique way of making it feel like you were the most important person in the world. Thank you for sharing your stories and your laughter Isaac, you will be forever missed." – Abigail Gavens