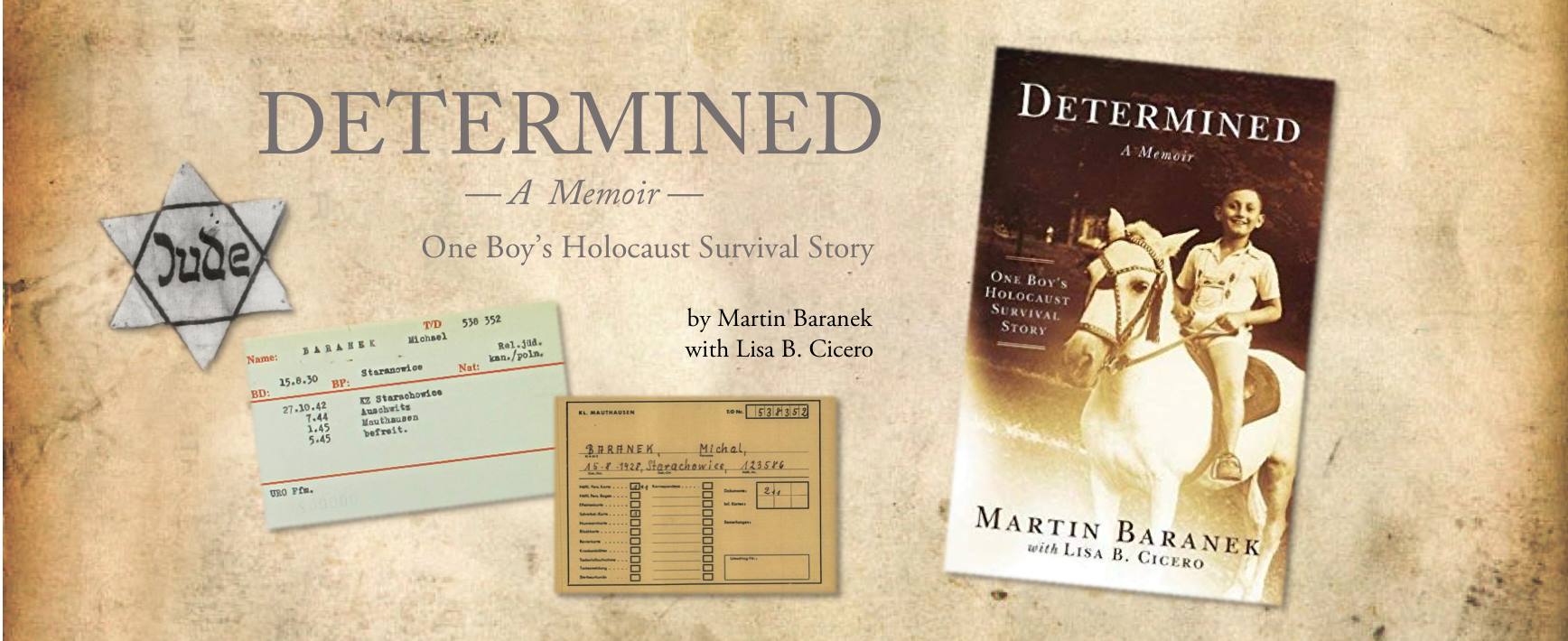 After going on my first March of the Living in 2005, I convinced Martin Baranek to document his life story for his family's sake so they would have an accurate record of what happened to him during the Holocaust. As the pages began adding up in my computer, we realized the importance of Martin's inspiring survival story for a broader audience. We believed that another Holocaust survival story would only appeal to Jewish readers, but then something unexpected happened. Florida International University selected Determined: One Boy's Holocaust Survival Story as mandatory reading for all incoming freshmen students in 2019. We spoke to hundreds of students who utilized the book as a common reading assignment during a year-long course. The majority of the students were not Jewish and did not have a strong background in the Holocaust. For many, Determined may have been their first introduction to the subject. The students listened thoughtfully and asked insightful questions. You would have thought Martin was a rockstar or was a famous YouTuber or Tic-Toker as they stood in line for an hour to meet him, take a selfie with him and get his autograph.
I did not realize the far-reaching impact Martin's story would have on the FIU students, but then I learned from Jon Warech, Executive Director of its Hillel that one of the non-Jewish students, Elisbey Castillo, who heard Martin speak her freshman year, had been so moved by his story that she became active in Hillel throughout the remainder of her FIU career and took up the cause of fighting antisemitism, even educating her own parents on the topic.
Martin, who resides in Toronto, still lights up when he talks about wanting to participate in next year's March of the Living, but the trip is just too physically demanding as he turns 93 years old this summer. Martin's story continues to captivate audiences because it is so compelling. He embodies the 20th century European Jew. He survived the Nazi invasion of Poland in 1939, the ghettoization and liquidation of his town, a work camp, he survived Auschwitz-Birkenau, the death march, Mauthausen, before liberation from Gunskirchen, and then an illegal transport to Palestine, where he fought in Israel's War of Independence. The fact that Martin survived at all is remarkable, but realizing he was 9 years old when the war broke out and was just shy of his 15th birthday at liberation is beyond extraordinary. When I asked Martin to what he attributed his survival, he said it was a series of miracles, which is why his camp brethren nicknamed him "the Miracle Kid."
In addition to the print version, Determined is now available in audiobook format on Amazon, Audible, Apple Books and ITunes Store.
"It has been said that a thousand doors had to open and close in the exact right time and succession in order for one to survive the Holocaust. Unlike six million other Jews, the doors Martin Baranek went through appeared for him at just the right time. But his survival was not just a matter of luck. Shining through on every page of this exceptionally moving tale are Martin's courage, perseverance and sheer will to live under the most brutal of conditions. You may have questions about God after reading this book, but you will most certainly believe in miracles."
—Eli Rubenstein, National Director, March of the Living Canada
"…This is a fascinating chronicle of the Holocaust by an amazing man who shares the tale of this painful tragedy and the triumph of his survival against all odds. We are privileged that Martin has shared his story with countless participants of the March of the Living that will pass on his message of NEVER FORGET to future generations…"
—Mel Mann, Executive Director – Friends of the March of the Living
For more information, click here.
Written by: Lisa B. Malamud, co-Author with Martin Baranek