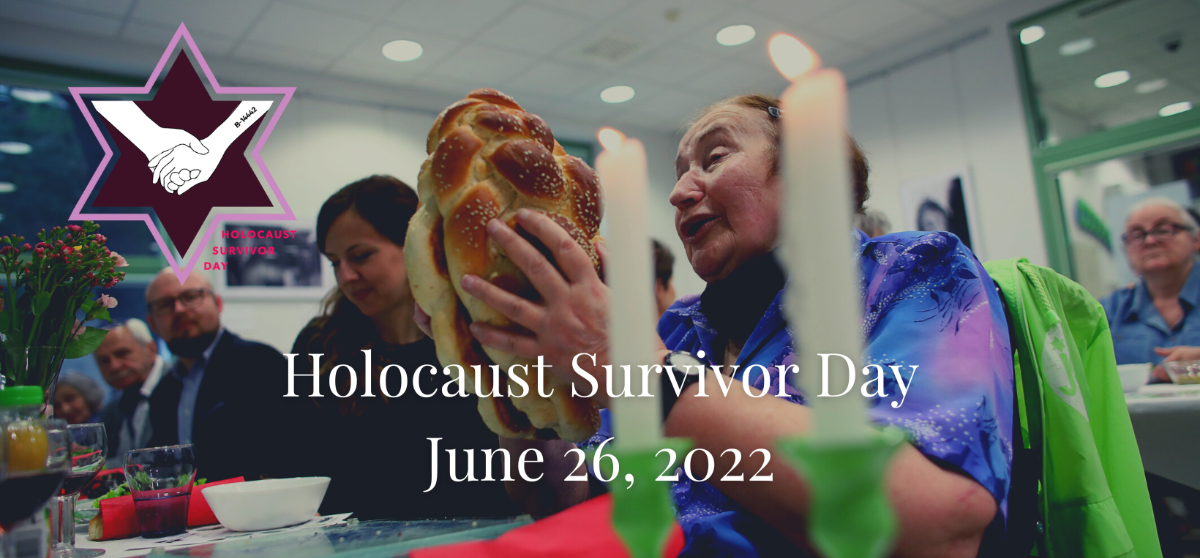 The International March of the Living is proud to be a partner for the second annual Holocaust Survivor Day on June 26, 2022.
For the inaugural HSD in 2021, we asked March of the Living alumni, friends, staff and leaders of all backgrounds, ages and ethnicities, to share a brief message, in their own language, elaborating on the impact Survivors had on them. May our beloved and cherished Survivors continue to go from strength to strength. This is what they had to say:
(Watch the video by clicking on the video player below)
This year, on June 26, 2022, thousands of Holocaust survivors are going to be celebrated by communities around the world. We invite you to participate in headline events organized in Israel by the World Zionist Organization and the Center Organizations of Holocaust Survivors in Israel as well as to record your testimony for and about Holocaust survivors using a new platform!
In Israel we will mark this celebration with two events:
June 26th at 18:00 (6pm Israeli time) at Beit Lohamei Haguetaot with the participation of Holocaust Survivors and their families, greetings by representatives of the Government of Israel, the WZO and representatives of major Jewish organizations.
June 27th at 11 am (Israeli time) at the Habima Theatre in Tel Aviv, in presence of the President of Israel and representatives of the Israeli Government and major Jewish organizations. The program will include a play, "The Avengers-a Love Story".
The President of Israel, Isaac Herzog will honor us with his presence at the event on June 27th and the Minister for Diaspora Affairs Mr. Nachman Shai will bring the greetings of the Government to Holocaust survivors in Israel and abroad at the event at Beit Lohamei Haguetaot on June 26th.
Livestream of the June 26th event at HaBima National Theater​
11:30AM New York | 6:30PM Israel
---
ABOUT HOLOCAUST SURVIVOR DAY
In March, 2021, Holocaust scholar Michael Berenbaum and JCC Krakow Executive Director Jonathan Ornstein published an op-ed in The Jerusalem Post calling for the creation of a "Holocaust Survivor Day." In their words, "Holocaust survivors deserve a day of joy; a day of celebration. Not a day to share with condemnation of the Nazis, but a day to celebrate their lives they built in response to the Holocaust. Survivors represent the best in all of us, the best of the human spirit. They are our treasure and our light and we must shine that light into every dark corner of our world."
Holocaust Survivor Day is, at its essence, a day for and about Holocaust Survivors. We want to honor them and tell their stories; celebrate their lives and thank them for all they mean to the Jewish People.
WHY JUNE 26?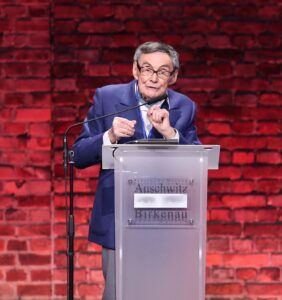 June 26th is Auschwitz survivor Marian Turski's birthday. This date was chosen to acknowledge the importance and impact of the noted historian, journalist, and the moral conscience of Poland's Jewish community, and especially his powerful speech at last year's ceremony commemorating the 75th Anniversary of the Liberation of Auschwitz-Birkenau. Mr. Turski had this to say:
"Auschwitz did not fall from the sky. It began with small forms of persecution of Jews. It happened; it means it can happen anywhere. That is why human rights and democratic constitutions must be defended. The eleventh commandment is important: Don't be indifferent. Do not be indifferent when you see historical lies, do not be indifferent when any minority is discriminated against, do not be indifferent when power violates a social contract."
Join us as and celebrate the lives of the survivors from your own community and the living legacies left by those who are no longer with us.
Record your testimony about Holocaust survivors
We have been gifted with the treasure of thousands of Holocaust survivor testimonies. They have taught us and inspired us and given us a moral roadmap toward a better future. Now, in honor of Holocaust Survivor Day we are launching a year-long online campaign of collecting video testimonies from communities and individuals around the world. Let us record our thanks, our feelings, and our tributes to them, the Holocaust survivors who have made an impact on our lives. Whether you know a survivor, or have survivors in your family, or read a book or saw a film about survivors, please share what survivors mean to you by clicking on this link and recording a short video.
It takes only a moment to brighten a survivor's day.
If you'd like to participate in HSD as an individual, we encourage you to celebrate and honor a survivor by reciting the Survivor Prayer at 8pm on June 26th. Please find the prayer here.