The Premier League Champions will send a delegation to Poland for the annual commemoration that takes place on the eve of Israel's Holocaust Memorial Day.
The contingent will include club directors Bruce Buck and Eugene Tenenbaum, Olympic legend and Chelsea supporter Sir Steve Redgrave, ex-manager Avram Grant, U18 manager Jody Morris, and academy players.
Grant, who's father was a Holocaust Survivor and who recently gained Polish citizenship, said: "Being the child of a Holocaust survivor and having relatives who died in Auschwitz, it is very special for me to join this March.
"Auschwitz stands for indescribable sadness and evil, but my father taught me to always remain hopeful. Despite all his struggles, he was the most optimistic man in the world and believed that always, in every situation, there is hope.
"I am very humbled to comeback here today with my former team Chelsea, to honour the lives lost and unite together for a brighter future."
The march follows a route from Auschwitz I to Birkenau, approximately 1.5 miles apart, and the Chelsea delegation will be marching alongside around 10,000 others from across the world, including just under 300 from the U.K.
Club chairman Bruce Buck added: "We are honoured to participate in this year's March of the Living and pay our respects to the millions of Jews who lost their lives in the Holocaust. Anti-Semitism has been on the rise around the world for some time now and it is in this context, and with the full support of the club's owner Roman Abramovich, we recently launched an initiative to raise awareness of and tackle anti-Semitism in all its forms."
Redgrave, who will participate in an ambassadorial role, added: "Sports can play an important role in bringing people together and Chelsea's efforts to tackle antisemitism is a good example of how clubs can contribute in promoting unity and tolerance. I am honoured to participate in this year's March of the Living to stand up to antisemitism and honour the millions of lives lost during the Holocaust."
Scott Saunders, March of the Living UK Founder said: Avram Grant has long been a friend of MOTL and indeed was a tremendous help to the UK when we first started. The fact that there is a group from Chelsea FC, especially following on from the work they have done in fighting anti-Semitism can only be another positive step to the ongoing work taking place across the country to combat all forms of hatred and anti-semitism."
This comes after the club launched a landmark 'Say No To Antisemitism' initiative, which was personally supported by the billionaire owner Roman Abramovich.
The campaign commits to tackle anti-Semitism at the club, with the owner writing in a match-day brochure to fans: "The Holocaust was a crime without parallel in history. We must never forget such atrocities and must do our utmost to prevent themfrom ever happening again. We can all do something to challenge discrimination at our club as well as within the world around us."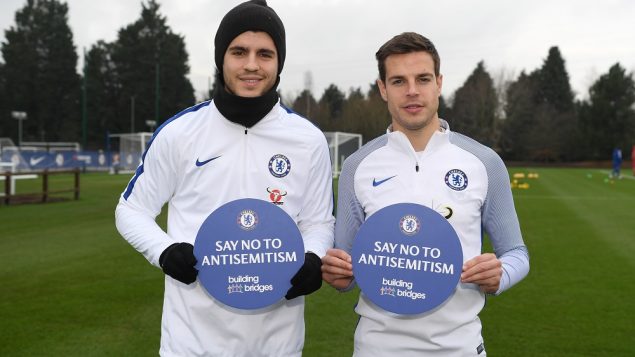 ---
Originally published HERE