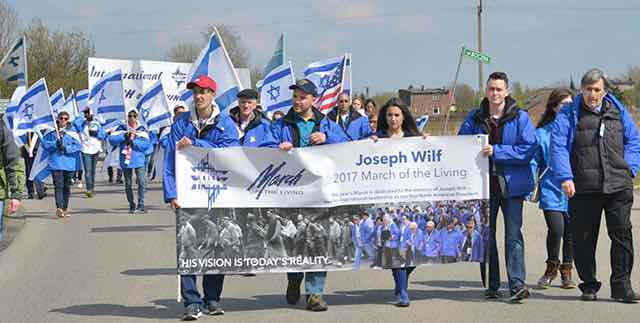 The late Joseph Wilf was honored on Holocaust Remembrance Day Monday.
Mr. Wilf, the father of Vikings Owners Zygi and Mark Wilf, was the first North American President of the March of the Living. The 2017 march held on April 24 was named in honor of Joseph Wilf, who passed away in August of 2016 at the age of 91. Nobel laureate Elie Wiesel, who participated in the first March of the Living in 1988, also was honored during the march. Wiesel, author of the well-known book Night, passed away in July of 2016.
"It's very special to our entire family to have our father's memory honored at the March of the Living," Mark Wilf said. "The March was incredibly important to him, and it seems fitting to see this year's event pay tribute to his name. Our father's legacy will help ensure the continued education surrounding Holocaust Remembrance to people around the world."
The event drew 10,000 people – students, survivors, educators and political leaders – who marched down the 1.8-mile path connecting the Auschwitz and Birkenau death camps.
Featured speakers included Rabbi Israel Meir Lau and President of the Supreme Court of Israel Miriam Naor, among many others. Messages of support also were sent by Prime Ministers from Israel, Canada and Australia.
Among the march's attendees were 75-plus Holocaust survivors from around the world, including one 103-year-old survivor.
Holocaust survivor Edward Mosberg described Joseph as "a great friend and mentor" whom he had known for more than 60 years.
"Joe was the founding North American President of this March and always had great pride in being part of its creation and watching its tremendous growth," Mosberg said. "Joe led and contributed to many great causes."
Joseph Wilf was born in Jaroslaw, Poland, in 1925. He and much of his family endured World War II in a Siberian labor camp before he immigrated to the United States in 1950. In addition to his entrepreneurial success, Joseph was highly respected as a leader, donor, board member and active volunteer in a number of organizations.
Dr. David Machlis, Vice Chair of the March of the Living, said that the creation and expansion of the international event is the tangible result of Joseph's "extraordinary vision and philanthropy" more than 30 years ago.
"His vision is today's reality," Machlis said.
---
Originally published HERE