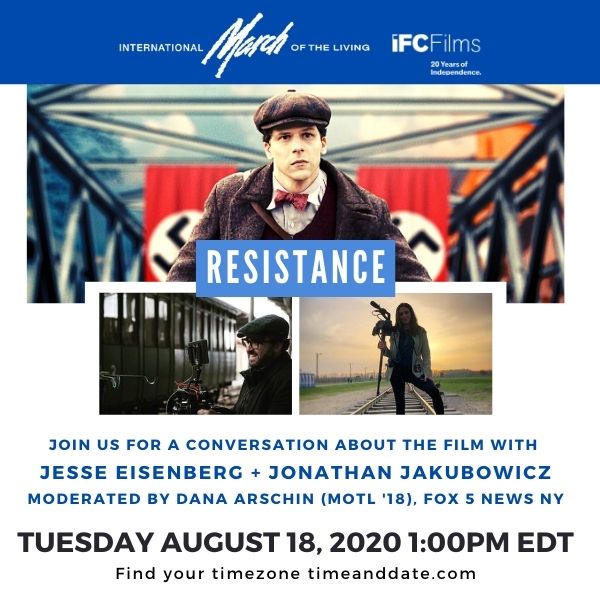 The International March of the Living is proud to announce a new series of complimentary webinars for our alumni and friends around the world. We are kicking it off with with a conversation about the new film Resistance, based on the true story of legendary mime Marcel Marceau, who put his fledgling career as an artist on hold to spirit Jewish refugee children out of Nazi-occupied France, even as his own father was murdered at Auschwitz.
Watch the film in advance of the webinar from the comfort of your own home, and then join our conversation with the film's star, Jesse Eisenberg (The Social Network) and director and screenwriter Jonathan Jakubowicz (Hands of Stone, Secuestro Express).
The program will be moderated by Dana Arschin, 2X Emmy Award-Winning reporter for Fox 5 News NY, and March of the Living alumna.
REGISTER
During this time of social distancing, Resistance is available for viewing in advance of the webinar on multiple online platforms, including Amazon Digital, Spectrum OnDemand, Apple TV, Google Play and YouTube. For a full list of video-on-demand options, visit http://www.resistance.movie/watch-at-home.
This International March of the Living webinar is held in partnership with IFC Films and Tamar Simon of Mean Streets Management.