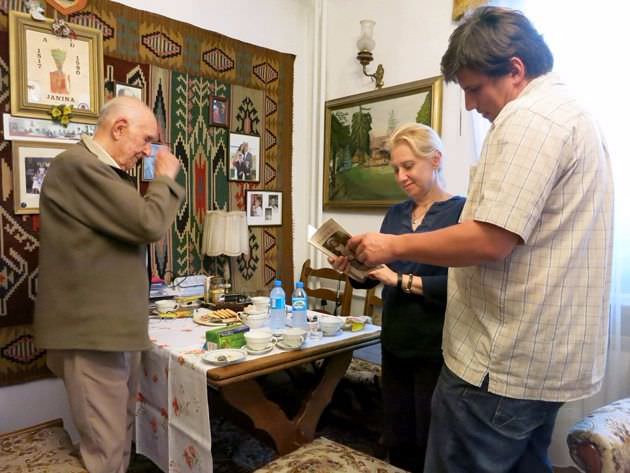 Jerzy "Jurek" Skarżyński had been up half the night. The next day he was going to meet the daughter and grandson of a Jewish man who once lived in Uchanie, his home village, and his mind would not slow down.
Jurek, a Polish Christian, had not spoken to an Uchanie Jew since June 10, 1942 when the Germans and their Ukrainian auxiliary police rounded up 2,025 Jews and deported them to Sobibor, a death camp in Lublin Province. He'd been stunned to learn that the family of his former Jewish neighbor, Yankel Finkelstein, was in Poland and eager to see him. Seventy-four years had passed since the deportation and he was amazed that anybody had survived.
Yankel Finkelstein had survived not only the deportation, but also a slave labor camp called Staw and an underground life in the forests of Lublin's Hrubieszów County. Today, he and his wife, Ryfka, live in Cherry Hill, New Jersey. I'm well acquainted with his story because I'm Yankel's daughter. I was in Poland at the urging of my son, Max, who insisted that we take a "family roots" tour before his future career plans would make such a trip unlikely.
We met Jurek at Chelmska 15 in Warsaw in August 2016. Slawomir Nowodworski, the proprietor of a tour company called Door to Poland, signed on as our translator. "Slawek" had a previous tour commitment, but when he learned we were headed to Uchanie, he half-jumped out of his skin. By a strange coincidence, Wioletta Wejman — Slawek's colleague at the Grodzka Gate Center (GGC) in the city of Lublin — had just interviewed Jurek for its 3,000-hour Jewish Lublin oral history project. Jurek, now 95, had recounted tales of his Uchanie youth and donated his hand-drawn sketches of 1940s Uchanie.
He'd also given GGC the only known photographs of the Nazi roundup of Jews in the Uchanie marketplace. Although the Germans had explicitly banned Poles from using cameras during the Nazi occupation, Jurek took two photographs while standing in an inn facing the marketplace. Somewhere in this Anatevka of doomed Jews and horse-drawn wagons is my 18-year-old father, his parents and four sisters. He is the only Jew in the photo to have escaped the common fate: Death by gas at Sobibor (his mother and sisters) or murder at the hands of Polish collaborators (his father and half-brother).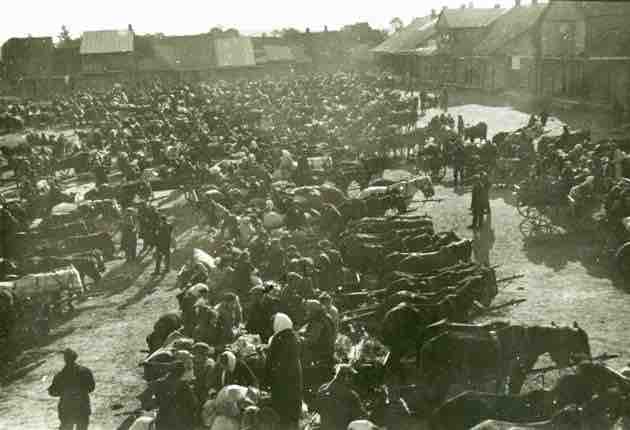 In April, Wioletta shared the photographs with Uchanie's chief librarian, Zofia Dragan. Despite pushback from the village priest, Zofia created a memorial in the Uchanie town hall. Jurek's photographs, sketches and a book of his poems, "Śladem serca" (whose publication Zofia facilitated) are the exhibition's prize artifacts.
My father wasn't keen on our going to Poland. "It's an anti-Semitic country," he warned. "Don't go."
What else could my father say about a country that participated in the Nazi-engineered Judenjagd — the hunt for Jews hidden in attics and cellars? Historian Jan Grabowski confirmed my father's personal experience:
"[We] can assume that the number of victims of the Judenjagd [reached] 200,000 — and this is in Poland alone," Grabowski writes in The Hunt for Jews: Betrayal and Murder in German-Occupied Poland (2013). "According to survivor accounts, the local 'Aryans,' Polish peasants, were in large part responsible for [the Jews'] misery and for the deaths of their close ones."
Moreover, some of the 400,000 members of Armia Krajowa (AK), Poland's "staunchly anti-Communist Home Party," were "implicated in murders and denunciations of Jews." After the war, anti-Semitic elements in the AK incited pogroms against Holocaust survivors in towns across Lublin Province.
When I told my father about our upcoming meeting with his former neighbor, he was alarmed. He had never spoken to Jurek but he remembered his nickname.
"How do I know Jurek wasn't part of the AK?" he asked in our nightly Skype call. "I talked to Jurek's mother after the war. She didn't know where either of her sons was."
My father's conclusion: The Skarżyński brothers were antisemitic provocateurs in the AK.
Wioletta, who set up our meeting with Jurek, told us that in 1943, when Jurek was 22, the Germans pulled him off a train and sent him to Berlin as slave labor. When Jurek returned to Poland, he settled in Gdansk — 400 miles from Uchanie. He convinced his parents to join him. None of them ever set foot in Uchanie again. She said she wants to keep interviewing Jurek until she learns why.
Over tea and cakes, Jurek told Max and me: "If your father and I could speak to each other, all we would do is weep." Max piggybacked his phone onto Slawek's hotspot and Skyped my father. Just like that, Yankel Finkelstein and Jurek Skarżyński were chatting in Polish.
"Jurek!"
"Yankel!"
The moment wasn't quite right for tears and the two boys from Uchanie kept the conversation light. Do you remember the water pump in the marketplace? Do you remember Kiwa Klajner, the soda vendor? He was the funniest guy in Uchanie! What about Sana Rojt, the butcher? Laksman the cobbler? Mejłach Lipszyc the rabbi? And the traveling egg seller, a hunchback? What was his name?
"Your mother was my teacher and your father was a feldsher," Yankel recalled, using the Yiddish word for an unlicensed medical practitioner. "He doctored my forehead after a horse kicked me."
"You remember my parents!" Jurek said.
"Your father had a long beard!" Yankel added.
"Yes!"
Jurek, once a Communist Party oil apparatchik, asked my father if he was an American millionaire. My father burst out laughing.
To which Jurek replied: "Masz brata w Warszawie!" "You have a brother in Warsaw!"
The call ended and Max scrolled to a picture of my 92-year-old father. Jurek said, "He looks like me."
Later, my father told me with a chuckle: "Ikh hob a brider in Varshe! I have a brother in Warsaw!" He was flippant, but he couldn't hide his affection for Jurek. "There just weren't enough Jureks and Slaweks and Wiolettas and Zofias," he said.
No, there weren't. Jan Grabowski and other historians have documented the collaboration of an estimated million Polish cogs in the Nazi machine. And yet the existence of a Jurek, a Slawek, a Wioletta and a Zofia makes our hate-obsessed world livable. They are the people who are shining a light on Jewish Lublin through the Grodzka Gate Center's array of commemoration projects and activities.
"I haven't exactly been a saint all my life," Jurek mused. "But those two photographs — they represent my one moment of courage."
---
Originally published HERE