Mala Tribich was 14 when Dr Rosensaft saved her life through an act of kindness and 70-years on, she continues to pay tribute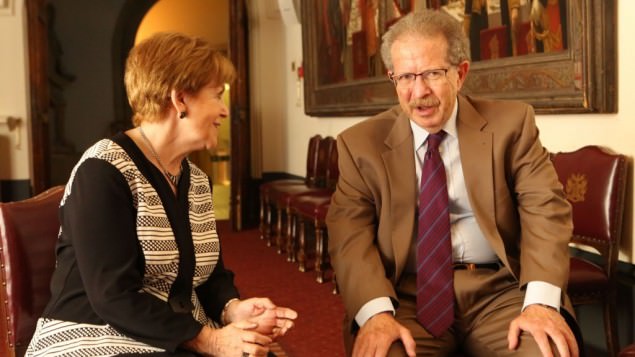 A Holocaust survivor has spoken of her joy at being reunited with the son of the doctor whom she credits with saving her life.
Mala Tribich was a 14-year-old Jewish prisoner at the Bergen-Belsen concentration camp in World War Two when Dr Hadassah Bimko Rosensaft provided her with safe haven in a children's barracks.
Dr Bimko risked Nazi retribution by allowing Ms Tribich into the children's area despite being too old.
Without her act of kindness, Ms Tribich said the squalid conditions of the adult section of the death camp would have ensured she did not survive to see the end of the war.
The doctor – herself a Jewish prisoner who had arrived at Bergen-Belsen after being detained in Auschwitz – had created an area to care for children in the camp and attempted to barter provisions for the young captives.
Ms Tribich and her five-year-old cousin Anne had visited her when they heard of the place and initially she only agreed to take Anne.
But, seeing the distress the separation would cause the young child, she allowed her older cousin to join her.
At an event in central London, which had received the endorsement of Prime Minister Theresa May, she met Dr Bimko's son Menachem Rosensaft. Mr Rosensaft was himself born in Bergen-Belsen's displaced persons camp in 1948.
The pair were pictured embracing emotionally at the dinner hosted by the Holocaust Educational Trust.
Ms Tribich said: "When in Bergen-Belsen, by chance I heard that there was a children's barracks somewhere in the camp and I immediately set out with my young cousin Anne to find it.
"Arriving there I was interviewed by the woman in charge, Dr Bimko. She explained that while they were overcrowded she would take Anne but I was too old. Anne, who was so anxious and terrified of losing me, refused to stay.
"At that point Dr Bimko agreed to take us both. Although Anne and I subsequently became very ill with typhus this act of kindness undoubtedly saved our lives. Dr Bimko was Menachem's mother.
"That is why it is so special and so emotional for me to be welcoming him here today. I have never forgotten her, or that act of kindness that saved me and Anne."
After the closure of the camp 66 years ago, Ms Tribich was taken to hospital with typhus, which she had contracted while being kept there.
She has spent the years since the war sharing her story in schools across the country through the Holocaust Educational Trust.
The Prime Minister wrote that the Trust had done "pioneering work" which turned "words into actions" when it comes to preserving the memory of those killed in the Holocaust.
---
Originally Published HERE